Jonas Beckett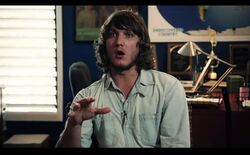 Profession
Cameraman on "Undiscovered Countries"

Jonas was one of the cameramen who went with Emmet on his latest adventure to find The Source.
Biography
Edit
Young and excited about the opportunity to work with Dr. Cole, Jonas' ambition to capture a previously unfilmed event got the best of him. In doing so, Jonas upset The Hanging Man spirit. Before The Hanging Man could kill the entire crew, Emmet kicked Jonas off the Magus to forever hang in the trees.
In search of the missing Dr. Cole, the new crew of the Magus came across Jonas hanging in the tree where Emmet had left him months earlier. They cut him down after discovering he was still alive. Unfortunately, The Hanging Man was still angered and was now out to kill everyone on the Magus. Most of the crew were prepared to kick Jonas off the Magus again, but Lincoln stood by his morals and ethics. This eventually led Jonas to becoming the better man by sacrificing his life for the safety of the crew. The Hanging Man spirit was appeased by the act and let Jonas live. In the season finale, after Lincoln was brought back from the dead, he told the crew it was Kurt who shot him, when Lincoln later reveals privately to Jonas that he knew it was in fact, Jonas who did it. With the evil spirit brought inside of him when he resurected, Lincoln killed Jonas.
Unanswered Questions
Edit